Major James George Semple Lisle and his wives
James George Semple was the most notorious swindler and con-man in late eighteenth century Britain. The two books relating his adventures have long been rarities but now, thanks to the Internet, both are again available. The Northern Impostor, a compilation of his many misdemeanors mainly in money matters, was published in 1786 by George Kearsley while Semple still stood in the dock at the Old Bailey. It is highly unfavourable to him, and ran to at least nine editions. The Life of Major J.G. Semple Lisle published in 1799 and reprinted in 1800, appears to be autobiographical, though, according to Smollett, probably written with the help of a ghost writer. The 382 pages concentrate more on his fighting exploits and his constant travelling than on his financial exploits. Today Semple´s adventures as a convict on board the Lady Shore and his experiences in Brazil are much more appreciated than his flamboyant and doubtful relations with the great men of his time.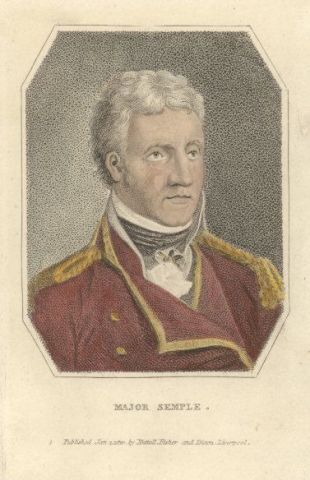 Major James George Semple Lisle
Semple claims to have been born in 1759 in Scotland. Impossible to keep at school or in the neighbourhood, he started his chequered career as a soldier of fortune when he was shipped off to fight in America. Returning to London in 1777, the handsome, pleasant and very articulate man embarked on an agreable life – at others´ expense. London having become too hot, he was making for the continent when in Harwich he met Elizabeth Grant of Devonshire, "an amiable and accomplished young lady of a highly respectable family". A "connection of the tenderest nature" resulted in a marriage, on March 8 1779, at St Clement Dane´s in London. Kearsley´s volume claims that the parents had offered to pay their daughter £200 a year if only she would leave Semple but found her "passion too great".
The notorious Duchess of Kingston, just banished from Britain for bigamy and riotous living, was now on her way to an estate outside Narva (then in Russia) and invited her god-daughter, Mrs Semple, to join her. The Semples gladly accepted the invitation. At Dantzig , with two heavy carriages, young Elizabeth was left to make her own way to Narva while her husband hurried on to St Petersburg to bask, as "Lord Semple", in the glory of his new-found friend Prince Potemkin and to fight for anyone who would employ him. In reply to a piteous letter from his anxious wife, he endeavoured "to soothe the feelings which an amiable, virtuous, affectionate woman must naturally feel at the departure of the husband she loved and who doted upon her" as he expressed himself in 1799. The Duchess, out of malice, shows Elizabeth a letter where Semple´s military plans are made clear and the final outcome is that his family are moved away from their compatriot the Duchess to a lonely life in Narva while the major happily accompanies the army.
At the beginning of 1784, the war in Crimea being over, Semple brings his family to St Petersburg. However, the capital proves too expensive even for him and in the autumn of 1784 he is back briefly in England. In his Life there is no further mention of his wife or children. Kearsley, in The Northern Impostor, has a little more to say: "He has a wife whose character is irreproachable by whom he had two chidren. He abandoned her and took up with an unhappy woman, whom he has brought to ruin". In 1786 Mrs Semple is on the army´s Compassionate List. In view of her husband´s well-known persuasiveness, it is specified that she may only receive her money in person. Kearsley states that she lives in Calais. There is no record of a divorce. Cyril Aydon writes: "I have in front of me an undated letter, written in London by his wife Elizabeth (nee Grant), soliciting help with some small debts so that she may quit England and return to France. It includes the following words: "...now that the Peace gives me an opportunity of returning to Calais, and settling myself once more where by my own exertions I might live without being burdensome to anyone..." The Peace in question can presumably only be the Peace of Amiens, which would imply that the letter was written in 1802. Andrew Offer has pointed out that their daughter Lucy Maria, born c. 1784 in Narva, moved to Littleham near Exmouth. She died there in late 1861 as an "annuitant".
However, according to Kearsley, it was just before 1795 that Semple, now calling himself Lisle or Semple Lisle, courted a young lady of Richmond in Yorkshire. He would have married her had not a "gentleman of London", knowing the major´s reputation, waited on the parents and prevented the match. His verses to her remain, however:
Forever, O merciless fair!
Will that cruel indifference endure?
Can those eyees look me into despair,
And that heart be unwilling to cure?

How oft what I felt to disguise
Has my reason imperiously strove,
Till my soul almost fell from my eyes,
In the tears of the tenderest love!

Then, Delia, determine my fate,
Nor let me to madness be drove;
But, oh! Do not tell me you hate,
If you even resolve not to love.

Semple had been imprisoned in Newgate in 1786 for obtaining goods on false pretences. He was moved later to Woolwich and pardoned, after his friends had interceded on his behalf, the condition being that he went abroad. His adventures are recorded in his Life. He saw the French king executed and he fought on various sides. Here, too, there is a Mrs Semple: "an amiable woman, who owes her misfortunes to her husband´s brutality". She accompanies Major Lisle on his way from Paris, staying a while in Augsburg, but when her husband starts vowing revenge they both disappear from the story.
Semple had now, in 1794, returned to England, and continuing his old tricks, he was again arrested, for defrauding tradesmen. Late in the year he was sent to Newgate, where he spent two years and was finally shipped off as a convict to Australia on The Lady Shore in 1797. However, the ship mutinied and Semple, a few officers and 66 female convicts were put into a small launch which over a rough sea managed to reach Brazil. Like a bad penny, he was finally returned via Lisbon and Tangiers to England, having given himself up.
The Major spent a couple of months in Portsmouth - a long letter is dated Portsmouth April 5th 1799 – before being taken to London and Tothill Fields Brideswell. It was during this year of imprisonment that his Life was published, though it seems likely that much of it may have been written earlier. He was not retransported, so what did happen?
The situation for French aristocrats who fled to Britain during the Revolution was often a very difficult one. In 1792 Elie de Boissimene brought his family to London. Born in 1733, he had been a captain in the service of France, in 1759 a major for the abortive Polish republic and had retired in 1785 as a lieutenant colonel with a small pension. In London, in 1795, at the age of 62, he points out that he had "served" for 48 years and tries to obtain a post with the Royalist French army. Money is very short and like many of his compatriots he opens a gambling joint where his two daughters serve the wine and are agreable to visitors. So was this where Major Semple met Sophie de Boissimène? And when did he meet her? And where did he marry her?
In the Archives Nationales in Paris there is a very useful source, namely the daily reports of Joseph Fouché´s secret police, a summary of which have also been printed and indexed. Both Major Semple and the Boissimènes are mentioned though some of the facts are obviously not true.
Boissimène had, as an old officer, returned to Paris over Altona outside Hamburg with his daughter and with major Semple, not because he was thrown out of England by Lord Portland for his wicked life, as Fouché states, but to save his army pension. Admittedly Semple seizes the opportunity of tricking the Duke of Mecklenburg out of 50 louis – "I am an English colonel" – but it helped pay the way. Sophie and Semple arrived in Paris 28 June 1801. According to a letter from Boissimène dated Paris 24 March 1802: "It is 3 years since my daughter Sophie associated with the mentioned Lisle, a Scot; in my absence she had my consentment to choose a husband. She came to join me here with two children and ready to give birth to a third when Lisle came from Frankfurt with a passport given him by Jackson" (the English agent). Six weeks later the Major is arrested and taken to le Temple as a spy. Sophie was almost ruined by keeping Lisle in gaol but soon enough he was again expelled from France and is back in London at the end f 1802.
Semple Lisle was remarkable for all the travelling he did and there seems to be no doubt that he was indeed a secret agent or in fact a spy. In his letter to Mr Stewart of the October 18 1804, recently sold in London, the Major, writing from his public house in Piccadilly is: "Begging to be allowed to offer his services to England as a spy or instigator of mutiny on enemy ships, describing his fitness for these tasks, and requesting that his past faults and follies be overlooked." Quite obviously the French Secret Police thought so too. On the 6 June 1805 he is again reported as being in Paris, in the 4th arrondissement, where he has been seen coming out of a house in the Rue Barre du Rempart. The police remark that he often uses various disguises and hairdos. He is known as one of London´s cleverest rascals and is now suspected of being the well-known spy "Facqs".
The Police issue a description of Semple: he is 42 years old, 173cm tall, reddish blond with an oval, thin face, blue eyes, large nose, medium forehead and mouth. The Major would have added his own description "Gay, fiery and haughty", perfect for a soldier and an officer. Repeated inquiries during 1805 and 1806 are fruitless. In March 1806 Sophie has still not heard from her husband. In all these papers there are discrepancies as to dates, places and persons. Family Search´s on-line statement that Cesarine Antoinette Delisle, daughter of Cesarine Louise Sophie "de Boissineur" and "Louis Delisle" was born in Paris on 19 April 1805 may be a misreading but may equally well be a result of Semple´s secret visit to France. There is a "fichier des émigrés" from 27 October 1815 in the Archives Nationales. Among the "Veuves et filles des Gentilshommes émigrés", "La Dame veuve de Lisle née de Boissimène", married in 1799, now the widow of an emigré foreign colonel who had died leaving her with "a son and a daughter" appeals for help, which is given.
Cesarine Antoinette Delisle
In London, however, Major Semple appeared in June 1807 at Worship Street public office, charged with defrauding two females, but was acquitted on a technicality. According to Family Search, on the 13 September 1813 Charles Hardie Semple Lisle was born in St Marylebone in London, the child of James George Semple Lisle and Anna Alton. It is of course not impossible that John and James Semple, born in 1808 and 1811, to James Semple and Ann Houston in London also belong in the family.
The famous fencer, Henry Angelo, published his "Reminiscences" in 1830 and the major is among those characters he portrays. Semple had already in 1777 cadged fencing lessons from Henry´s father as well as obtruding his company on Henry himself, particularly at dinnertime. Many years later Angelo received a letter: " Sir, Having in a recent letter explained to you my situation, though you were at that moment absent, understanding that you are now in town and my miseries continuing in full force; let me now pray you to accord me the very little assistance then solicited, a few shillings. The sad urgency of my situation cannot be described; I am at this hour without a fire and without a shirt. I will only add that whatever is committed under a sealed envelope to the bearer will reach me, and that I am, with respect, your obedient servant I.G.S. Lisle. 4thFebruary 1811."
The fencer enclosed a crown and observes:" He took care never to appear himself, but had boys in different parts of the town to deliver his begging letters; and judging from the numerous letters he could send in one day,if they made any sort of impression, I should think he never could have been in want of a fire, or a shirt at all events, though perhaps he was obliged to forego his former luxurious way of living". In December 1814 James George Semple, now in great distress, was found guilty at the Middlesex sessions of obtaining bacon and butter by fraudulent means. He was yet again sentenced to seven years transportation. This time too he escaped his punishment. Cyril Aydon has found the following in a newspaper called the Hull Packet, dated Tuesday December 19, 1815:
"Deaths
On the 18th ult., at Lisbon, Major Semple. He went to bed the preceding night apparently in good health, and was found dead in his bed in the morning. He said he was on his way to Morocco; to which he had engaged to transport himself, on the Prince Regent's remitting the sentence passed on him at his last conviction."
Christina Backman:
backman.fm at telia.com
Should any reader have further news of the Northern Impostor´s last years, from 1799 until his death, it would be very welcome.